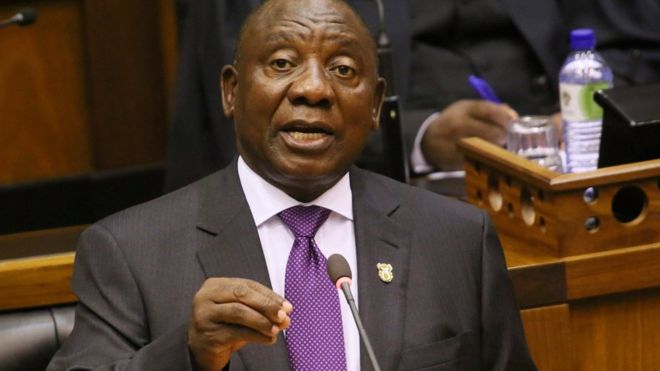 New South African President Cyril Ramaphosa has spoken of a "new dawn" in his first State of the Nation address.
Mr Ramaphosa, who was sworn in on Thursday, promised to "turn the tide of corruption".
He also spoke of accelerating land redistribution and outlined plans to boost the economy and create jobs.
His predecessor, Jacob Zuma, stepped down on Wednesday after pressure from the governing ANC party. He faces numerous corruption allegations.
Mr Ramaphosa, a 65-year-old former businessman, dedicated much of his address to parliament to job creation. He said that the country faced "tough decisions" because of its stagnating economy and large national debt.
He highlighted youth unemployment and said he planned to create a million paid internships in the coming years.
"This is the year in which we will turn the tide of corruption in our public institutions," he said.
"We are determined to build a society defined by decency and integrity, that does not tolerate the plunder of public resources, nor the theft by corporate criminals of the hard-earned savings of ordinary people."
He drew applause when he thanked South Africans for their patience during the last turbulent week.
Opposition Democratic Alliance leader Mmusi Maimane said the president could have pledged "bolder action", and complained, "I heard more of the same stuff".
But Julius Malema, head of the far-left Economic Freedom Fighters party, said he would give the new leader "the benefit of the doubt".
Earlier in the week, the ANC (African National Congress) had told Mr Zuma to step down or face a vote of no-confidence in parliament on Thursday.
Mr Zuma, who had been in power since 2009, finally gave way in a resignation speech late on Wednesday.
The allegations of corruption he faces include claims that he allowed the wealthy Gupta family, to whom he has personal ties, to wield influence over government policy.
Both Mr Zuma and the Guptas have denied wrongdoing.
Courtesy of BBC Africa
Ends