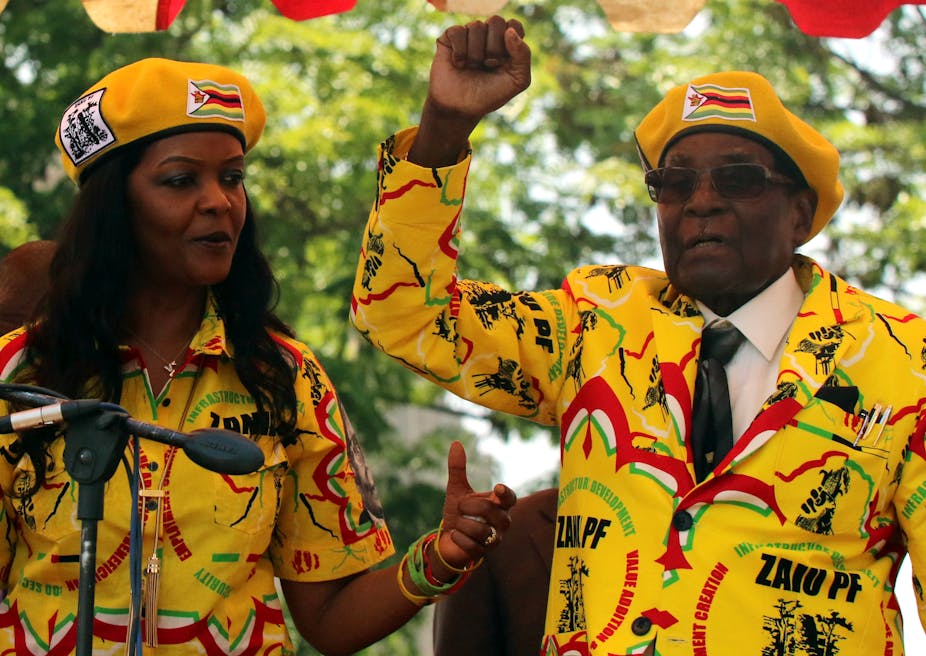 By David B. Moore, University of Johannesburg
Nobody is safe from the rages of Zimbabwe's First Lady, "Dr. Amai" Grace Mugabe. There was the young South African model Grace lashed with extension cords. 93-year-old President Robert Mugabe's longtime and usually trusted ally Emmerson Mnangagwa, was next in the firing line: he was sacked because his supporters allegedly booed her at a rally.
The consequences of her vengeance may have led to a coup headed by Zimbabwe's army chief General Constantino Chiwenga, who is commonly perceived to be Mnangagwa's protégé. But ex-freedom fighter Mnangagwa has his own presidential aspirations.
Mnangagwa has been exiled from the party in which he has served since he was a teenager. But he is not just skulking in the political wilderness. On arrival in South Africa he issued a statement calling those who wanted him out "minnows". He promised to control his party "very soon" and urged his supporters to register to vote in the national elections next July.
As if to back Mnangagwa, on November 13 General Chiwenga announced that he and his officers could not allow the "counter-revolutionary infiltrators", implied to be behind Grace Mugabe, to continue their purges.
Factions and purges
Chiwenga declared that the armed forces must ensure all party members attend the extraordinary Zanu-PF congress next month with "equal opportunity to exercise their democratic rights". He flashed back through Zanu-PF's history of factionalism, reminding his listeners that although the military "will not hesitate to step in" it has never "usurped power". Chiwenga promised to defuse all the differences "amicably and in the ruling party's closet".
Although this airbrushed more than it revealed about the party's rough patches when leadership vacuums appeared, the statement appeared more as a cautionary note than a clarion call to arms. It's not often a coup is announced before it starts; but once in motion direction – and history – can change. Grace Mugabe may have unleashed a perfect storm and her own undoing.
All the "shenanigans" that have inspired the generals to consider a coup have set the stage for an extraordinary Zanu-PF congress this December instead of in the expected 2019: that is, before rather than after the July 2018 national elections.
This suggests some people were in a hurry to settle the succession issues for the president, who is now showing every one of his 93 years. Maybe Robert Mugabe won't rule until he is 100-years-old. If not, and members of his family or party wanted to keep their dynasties alive, they had to work quickly lest some similarly inclined contenders are in their way.
These contenders include Mnangagwa and a slew of his "Lacoste" faction consisting of war veterans and the odd financial liberal. The best-known of these is Patrick Chinamasa. This former finance minister tried to convince the world's bankers he could pull Zimbabwe out of the fire. He was demoted to control cyberspace and then fired. Perhaps he may make a comeback in the wake of the semi-coup.
The pro-Grace faction includes the members of Generation 40, or "G-40". Many are well over 40. But in Robert Mugabe's shadow they appear young, as does the 52-year-old First Lady. Without a base in the liberation-war cohort, they resorted to working with the Mugabe couple: sometimes their ideology appears radical, espousing indigenous economics and more land to the tillers.
If the history of their best-known member – the current Minister of Higher Education Jonathan Moyo – is indicative, however, they are pragmatic; or less politely put, opportunist.
But with Grace Mugabe sans Robert, they would have to muster inordinate amounts of patience and manipulation to steer the sinking ship to the shores of stable statehood and incorporate yet younger generations who cut their political teeth as Robert Mugabe's rule faltered.
Perfidious 'saviours'
Yet the possible plan for the upcoming congress – to create a third vice-president – appears not to move far beyond the cold hands of the old. Phelekezela Mphoko would be pushed to third vice-president status. Grace would be the second vice-president.
The current defence minister, Sydney Sekeramayi would be first vice-president and so, next in line for the presidential palace. He is a quiet but no less tarnished member of the Zanu-PF old guard; especially when one remembers the massacre of thousands of Ndebele people during the Gukurahundi.
When performing the calculus necessary to rectify Zimbabwe's graceless imbalances, remember that Mnangagwa was perhaps the key architect of the nearly genocidal Gukurahundi, now chronicled in archival detail in historian Stuart Doran's Kingdom, Power, Glory: Mugabe, Zanu, and the Quest for Supremacy. Among the scores implicated therein are the British, condemned by Hazel Cameron, another meticulous archivist, as exercising "wilful blindness" during what Robert Mugabe has dismissed as a "moment of madness".
Perhaps it's no surprise, then, that many are suspicious of Mnangagwa's relationship with the UK. Many suspect he has been swimming with perfidious Albion for a very, very long time.
The ConversationThose waters, in the shadow of Mugabe's heritage, will take a few more generations of hard political work to clear. It hardly seems propitious that a coup, and the same generation that has ruled since 1980, starts it off.
David B. Moore is Professor of Development Studies at the University of Johannesburg.
Culled from Conversation
Ends