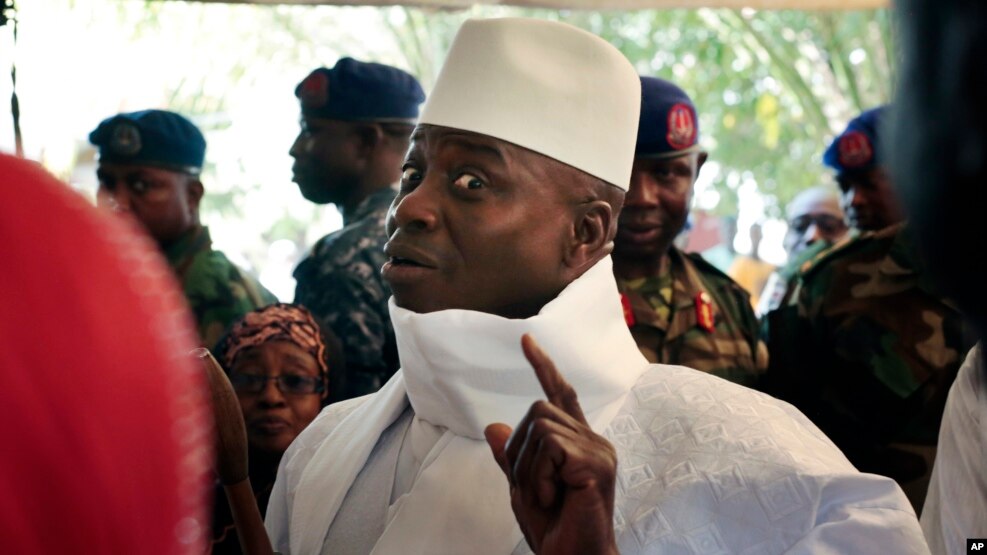 The mediation team of the Economic Community of West African States (ECOWAS) this evening arrived in the Gambian capital Banjul, ahead of Tuesday's talks with the outgoing President Yahya Jammeh and leaders of the incoming opposition coalition.
The team that is in Banjul to tame President Jammeh or else face the wrath is headed by the ECOWAS Chair, Ellen Johnson Sirleaf, President of Liberia. Other members of the team are Presidents of Nigeria, Sierra Leone and Ghana – Muhammadu Buhari, Ernest Bai Koromah and John Dramane Mahama.
ECOWAS officials' visit has been exacerbated by Yahya Jammeh's last Friday statement in which he disputed the December 1st presidential election results. Gambian leader, who had earlier conceded defeat and even congratulated the coalition candidate Adama Barrow, dramatically changed his mind. Jammeh's u-turn has invited barrage of national and international condemnations.
United States Ambassador to the United Nations said it is significant to include Mahama who had just conceded defeat last week after losing Ghana's presidential election.
"The delegation that is visiting tomorrow (Tuesday) is extremely significant," Samantha Power told VOA. She described the situation in the Gambia as "very dangerous. We know that there are some military officers that have sided with President Jammeh since his retreat from his prior recognition that he had lost the election, and that's a very alarming circumstance."
Power said everyone at the international community is "singing from the same sheet of music and the song is clear: you have lost the election, President Jammeh, and you must give up power peacefully to your freely elected successor."
In an earlier statement, President Sirleaf said Jammeh's reversal of decision was "unacceptable".  She said it has threatened peace in the Gambia and the entire West African sub-region. She wanted Yahya Jammeh to leave power without "preconditions."
Ends