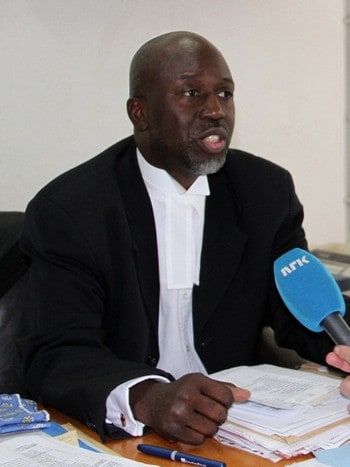 The Gambia Bar Association has jumped into President Yahya Jammeh's sponsored crime of nullifying the results of the country's presidential elections. The association speaks loudly and clearly. Not only the Bar condemns Yahya Jammeh for his attempt to subvert the legitimate decision of the Gambian people, it also rejects the defeated President's intention to file an election petition in court. The legal body describes Jammeh's misguided statement relayed over national television as "illegitimate" and "treasonable offence," capable of destabilising the country.
The Bar Association does not not want to associate itself with anything illegal, which is why it asks members and staff of the judiciary, in particular, (Supreme Court included) to boycott the courts in solidarity with the Gambian people until Yahya Jammeh accepts the result of December 1st elections as well as hand over Power to the President-elect Adama Barrow.
In a powerful statement, the Bar President Lawyer Sheriff Tambedou put across lawyers' grievances. "Considering that since May 2015, there has not been a sitting Supreme Court session due to the absence of a panel, that there is no legitimate legal mechanism available in The Gambia to hear and determine the election petition filed by Jammeh or on his behalf and that Yahya Jammeh has already pre-empted the outcome of Court process by declaring the election result as a nullity, The Gambia Bar Association warns that Yahya Jammeh must not be appointing Judges who should have been appointed since 2015," Lawyer Tambedou said.
The Gambia Bar Association sees no reason why the outgoing President would take the law into his hands.
Ends