The Gambian President is always surrounded by soldiers, he does not even trust police officers or plain clothes protection security. Why? If a man causes restlessness and fear to others, he became the first victim. Even if the allegation police prosecutors are labelling against Teranga FM MD Abdoulie Ceesay is true that, Mr Ceesay text a photo of our Lion of Kanilai 'with a pistol point to his temple'. Is that sufficient reason to drag the radio MD to court? One wonders after all the bravado, lion hearted gesticulations, wild and angry fearless utterances, our brave Lion is afterall very intimidated by even pictures. I am genuinely disappointed in the portrayal of President Yahya Jammeh as a scared and terrified head of State. Please, release Mr Abdoulie Ceesay and let him go, the NIA and police are actually demeaning their fearless President. Now we all know that, President Jammeh is scared of even innocent text messages and photos. Imagine the real thing facing is physical torso! Lord have mercy. Read below the Point article:
Lawyers representing Teranga FM radio managing director Abdoulie Ceesay have filed a bail application at the High Court in Banjul for the release of Ceesay since "the alleged offence committed is bailable".
Abdoulie Ceesay was arraigned on 4 August 2015, charged with seditious intention, at the Banjul Magistrates' Court. He denied any wrongdoing.
Ceesay's defence team earlier urged and failed to get the lower court to grant him bail.
He was remanded at Mile 2 prison on 5 August 2015, after the lower court in Banjul refused him bail.
Ceesay's lawyers are Kombeh Gaye-Coker and Segga Gaye, and his bail application at the high court is expected to be heard this week.
The trial magistrate, in his ruling, said the court would exercise its discretion against the accused person to allow the investigations to be completed.
The matter was then adjourned for hearing on 18 August 2015.
The police prosecutors accused Abdoulie Ceesay that on 16 July 2015, in Banjul and diverse places in The Gambia, he distributed pictures of President Yahya Jammeh, to one Zainab Koneh and Fatou A. Drammeh through his Africell mobile Sim card, showing a gun pointed at the President, with the intention to raise discontent, hatred or disaffection among the inhabitants of The Gambia, and thereby committed an offence.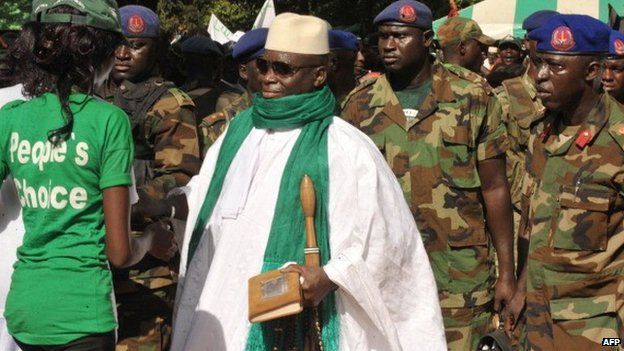 Ends