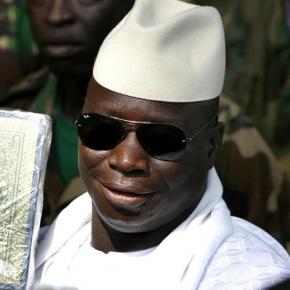 Yaya Jammeh called us vermin, dogs, ants. We in return call Yaya Jammeh, the SOB, the Chief thief, the ugly and the killer. When one lifts a finger and insults, it is as well expected from others to reciprocate. Only a woman-man can behave like Yaya Jammeh does. Yaya Jammeh is the "Nata" of the Gambia for those old enough to know who "Nata" is in Banjul in the 60's and 70's. Nata was a woman-man who would go around houses in Banjul to wash clothes for payment. Despite his womanly gestures, ooh! Don't' engage Nata in a dispute or fight. LOL!
I agree 100% with those who believe that we should fight Nata Jammeh by ALL means necessary. Nata Jammeh thinks he can manipulate his way into elections.
We will of course encourage the civilians whose fighting spirit is a democratic way, we will support them, and we will finance them and propaganda for them.
It will surely and certainly also take the other groups of Gambians brave enough to take Nata Jammeh head on in the battlefront. We will strategize, we will train, and we shall surprise and shall strike at him. Elections are not our beef. An eye for an eye is our motto, just like our Prophet Muhammad PBH did when it was necessary. We will fight and we will win.
Those that helped Nata Jammeh stay in the Gambia Gendarmerie in the 80's when General Pathe Seck of Senegal wanted him out should now try to right their wrongs.
Those that helped Nata Jammeh stay at the State House during President Jawara's time including the first family should also try to correct their wrongs.
Those comrades in arms that helped bad Nata Jammeh topple Jawara's regime in 1994 should as well try to correct their wrongs.
Those businessmen and civil servants and ministers that help Nata Jammeh steal the wealth of our country should also rectify their wrongs.
Those rogue soldiers that protect the physical person of Nata Jammeh should rethink their roles and endeavor to correct their wrongs.
Those civilians sycophants and politicians and the IEC that help Nata Jammeh steal the elections should now desist and correct their wrongs.
We the Gambians made ugly Nata Jammeh what he is today. We made him safe, we made him rich and we made him stay in power for 22 years.
Why then should we continue to complain when the solution is in our hands? Nata Jammeh will not stay one more day in office if we the Gambian people decide to make him history. The Jola community in particular has a special role to play in this saga for Nata Jammeh is a big shame to the honorable Jola tribe and the Gambia. There are good and evil persons in every tribe. The Jola community should not let a brutal son of theirs tarnish their honorable name for 22 years. They should be in the forefront of the fight to rectify the wrongs done by ugly and brutal Nata Jammeh both to them and the country. Nata Jammeh was from the poorest Kanilai family. He became jealous of the well to do Kanilai families and he killed many of them out of jealousy. Nata Jammeh does not want to see any Jola more honorable than him around him. He has killed and exiled so many of them and now only the bad Jola witches are around with him.
Soldiers! Nata Jammeh is not for you, he is for himself, his wife and children and no one else, and you know it and you see it every day. The breadcrumbs he throws at you occasionally are nothing compared to the country's wealth he gives himself and his devil wife Zainab Naar Jammeh. Even to marry a Jola lady is not in his DNA. Just look at Kanilai City, the luxury cars he drives around, the women he prostitues and the millions of dollars he spends and measure him squarely on that. Where does all this money come from? It's time to wake up. It's time to end the nightmare.
Nata Jammeh threatens the opposition that some will not live to witness the next elections but little does he know what awaits him before any elections.
Will Nata Jammeh witness the next elections? He does not have a clue about that.
The good, the bad and the ugly is a cowboy movie acted by Clint Eastwood in the 60's, go see it you will not regret it.
Deyda Haidara
Ends