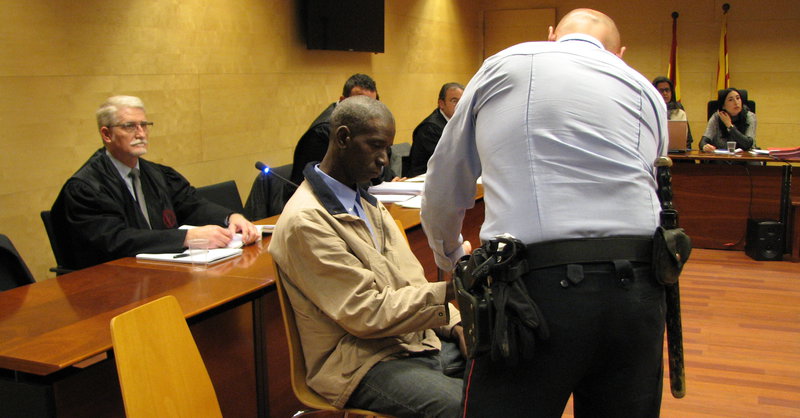 A Gambian immigrant who stabbed his wife to death risked going to jail for a longer period. Musa Baldeh, who hailed from Kantora village in Upper River Region, killed Aji Jawo with a kitchen knife on November 17th 2014 in Sant Pere Pescador in Spain.
Baldeh faces up to 40 years in prison upon conviction. He had killed his 32-year-old wife after an argument ensued between the two. Baldeh was reported to have repeatedly stabbed Aji until she fell on the ground. He then chanted mission accomplished.
But Baldeh told Court of Girona that he stabbed his wife in self defense. The man, who admitted killing his wife with an ax type knife, said Aji had earlier stabbed him on his hands. He said he arrived home and found his wife very upset. "She was screaming and cursing but would not let me go with a suitcase. During the discussion, Aji drew a knife and attacked me with a knife. While defending myself, I sustained cuts in my finger. I became out of control upon seeing blood oozing from my finger. It was then that I went to get an ax type knife and struck her several times."
Baldeh said there were ongoing discussion between him and his wife after they separated. They lived together for four months and separated. But Baldeh wanted to mend fences before he had traveled to the Gambia where his three other wives live.
The prosecution refuted Baldeh's claim of self defense, which contradicted witness statements. The prosecutor said Mr. Baldeh had confined his wife for two years. During the period, Aji was not allowed any visitor or talk to her friends. The prosecutor added that the defendant used to attack and insult the deceased when he was angry. In fact, earlier she had asked for a restraining order. This was however denied by the court.
The 54-year-old defendant's lawyer is planning to lodge an appeal if the court rules against his client. The prosecution wants the court to send Musa Baldeh to jail for a lengthy period. The case awaits the sentencing phase.
Ends