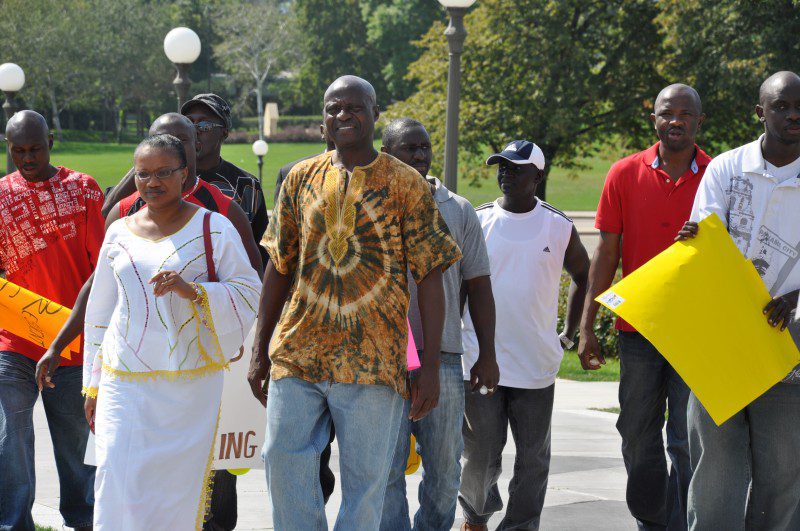 Committed Gambians who believe in change through democratic elections should consider coming home in December 2016.
It is a fact that over the years, the diaspora Gambians have done a tremendous job in exposing dictatorship in the Gambia.
It is also a fact that without the financial remittances of the Diaspora a lot of people at home would go to bed without food on the table, without school fees, without medical care, without shelter and other vital needs of a people.
It is indeed a fact that the government and the private sector depend on the foreign exchange remittances to pay for imports and other services needed to sustain an economic and financial system nearly on its knees. Jammeh's human right records have put a complete stop to multilateral and bilateral inflows as well as direct private investments in the country.
What has the diaspora Gambians got in return for the invaluable contributions from Jammeh and his government? Absolutely nothing, not even a kind word of appreciation! In fact not only the diaspora got anything in return, they are treated with utter contempt with all their rights as enshrined in our constitution denied them, most importantly the right to vote in our elections.
As things are unfolding with the Jammeh regime, there is no chance for this voting franchise to be extended this coming presidential election in December.
Should the diaspora fold hands and watch Jammeh tramples on the right and live of Gambians without a democratic fight on the ground? I hope not.
There is an important part that the diaspora can play this coming December elections. The opposition might not need a lot of money as alluded to campaign in this coming elections, what they need most is helping hands to galvanize the local population to go vote massively especially the youth and women and more importantly to serve as electoral representatives and observers in the polling stations throughout the Gambia. We need your physical presence to make sure all votes are counted and recorded on the spot for onward transmission to party headquarters for compilations. The opposition will need 100's or more diaspora Gambians to come and partake in the electoral process and make sure each vote matters. All it will cost you is an air ticket and we believe that it is not too much to ask for to partake in a noble and honorable sacrifice for love of country.
Not a single person will be arrested for exercising their civic rights in participating in an electoral process as enshrine in our constitution. December being a holiday period for most diaspora workers makes it easier to come in large numbers and help make the opposition win the elections and usher in a New Gambia.
The beauty about electoral change is that all of us will be heroes. All of us will feel proud for our collective victory. This will also send a strong signal that people's power is a reality in the Gambia. Just as Senegal did it twice successfully, Gambia can also do it. It all depends on our patriotic commitment and the will to change our lives in a democratic process.
On the spot counting is exclusively in our favor and we should make good use of it and deny Jammeh 80% of the vote cast. We hope you will come in your large numbers and help the opposition and the people on the ground unseat Jammeh peacefully and democratically.
Thank you.
Deyda Haidara.
Ends