An Islamic State militant last week publicly executed his mother in Syria's city of Raqqa. Lena al-Qasem, 45, was executed for asking Ali Saqr to leave the group, activist groups said.
The terrorist group has occupied large swathe of land in Syria and Iraq. The Islamic State does not entertain dissent. It has declared caliphate in its controlled territories. IS executed hundreds of people in Syria and Iraq since 2013.
Lena's crime was to advise Ali to leave with her before the US wipe out IS. Her execution was immediately ordered. Her 21-year-old son was consequently ordered to carry out the execution by firing.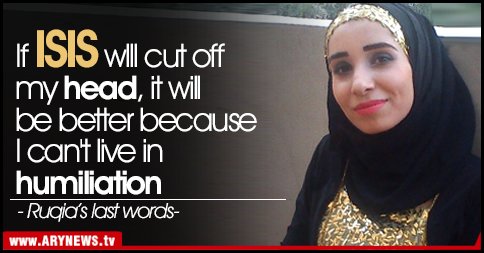 The group had earlier executed an independent citizen journalist in Raqqa. Ruqia Hassan is believed to be the first female journalist to be executed by IS.
The woman, who goes by the pseudonym Nisan Ibrahim, used her Facebook page to report about life under IS rule. She also reported on airstrikes in Raqqa as they happened.
An activist group, Being Slaughtered Silently media campaign, said Ruqia's execution was meant to instill fear among journalists.
The execution followed Hassan's disappearance. The exact date of her execution was not made public. However, IS informed Hassan's family of her execution on charges of "espionage" only on Monday.
In one of her last postings, Ruqia responded to IS for banning Wi-Fi hotspots in Raqqa. "Go ahead and cut off the internet, our messenger pigeons won't complain," she wrote on July 20.
The independent Kurdish journalist from Raqqa, the fifth journalists executed by IS since October, had participated in all of the revolution's protests. She had continuously challenged the Islamic State.
Ends